At Flagstone Pools & Pavers, we extend our heartfelt gratitude for choosing our services and we want to show our appreciation by rewarding you for referring customers to us.
When someone you refer chooses Flagstone Pools & Pavers to build their pool, we have an exciting referral program in place to express our thanks:
Earn $200 for your first referral**
Receive $250 for your second referral**
Enjoy $500 for your third referral and subsequent referrals**
To ensure that you receive proper credit as the referral source, please reach out to us at (813) 886-7665 (POOL) with the name and phone number of your referral customer.
**Please note that the referral program is subject to cancellation at any time without prior notice. Only the first referral source recorded by Flagstone Pools & Pavers will be eligible for payment. The referral customer must explicitly state the referring source's name during their initial meeting with our Design Consultant and must sign the pool contract. Referral bonuses will be paid once the new pool excavation is completed.
We value your trust and confidence in our services, and we believe that your recommendations are a testament to our commitment to excellence. By participating in our referral program, you not only have the opportunity to earn generous rewards but also contribute to the growth of our Flagstone Pools & Pavers community.
Thank you again for choosing us as your pool provider, and we look forward to rewarding you for your continued support and referrals.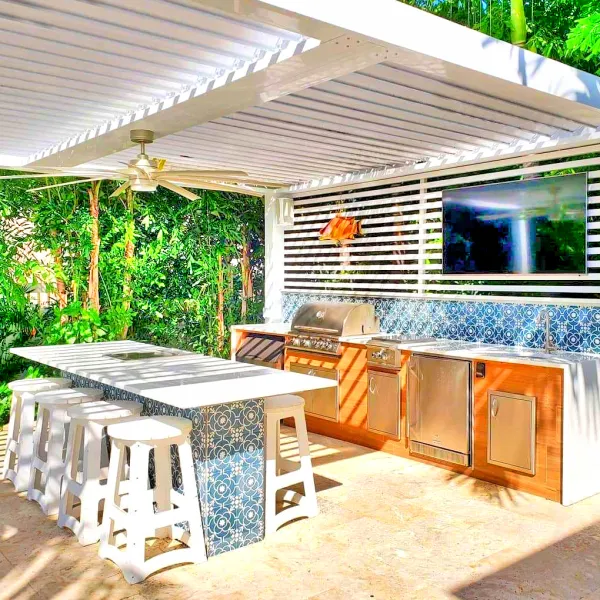 Dive into Luxury with Flagstone Pools - Tampa Bay's Top Choice for Pool Builds & Renovations!
Discover luxury in your backyard with Flagstone Pools, Tampa Bay's go-to for exquisite pool builds and renovations. Our dedicated team transforms your outdoor space into an oasis tailored to your lifestyle. Dive into the Flagstone Pools experience - your dream pool awaits!

What Our Clients Are Saying
"I highly recommend Flagstone Pools and Pavers - we are so happy with how they transformed our backyard into an beautiful oasis that feels like we are visiting a spa resort every time we step outside. Everyone associated with this company was friendly and professional and knew their stuff! Most importantly, they were all highly-skilled at what they do, and were motivated to help us in any and all ways possible!"
"Flagstone pools did a phenomenal job with install of our pavers, Pool resurfacing and conversion to salt. The owners care and follow through on every aspect of the job. These have been hard times for a lot of businesses with labor and material shortages and I've appreciated the transparency/honesty of Flagstone on timelines, materials, etc."
"Communication was absolutely perfect. Design was everything I had in mind and more. Pool was finished faster than expected. I couldn't be more pleased with the entire project! Highly recommended! I'd give 100 stars if I could!!!!"